Emergency: Dial 911
Routine Calls: (860) 486 - 4925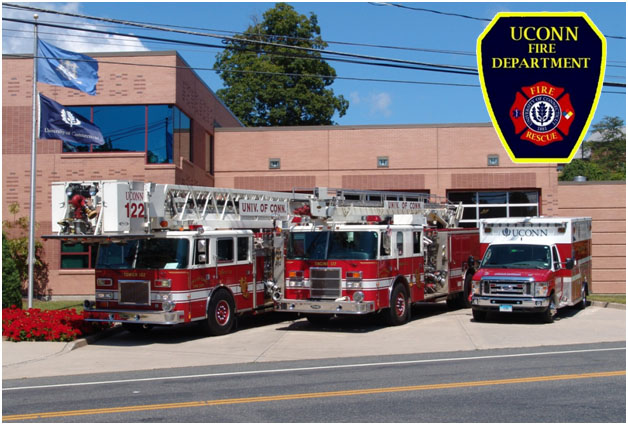 "Preserving the Past - Protecting the Future"
The University of Connecticut Fire Department [UCFD] is a fully operational 24/7 department composed of 36 employees assigned into three divisions; Fire Administration, Fire Operations and the Fire Marshal and Building Inspector's Office.
Fire Administration is located in the Public Safety Building at 126 North Eagleville Road. This division consists of the Fire Chief, two Deputy Chiefs and an administrative assistant. Fire Administration is responsible for planning, budget and the oversight of the department. Under the direction of the Fire Chief, a Deputy Chief is assigned to manage each of the divisions listed below.
The Fire Marshal and Building Inspector's Office (FMBIO) is located on the Depot Campus and is divided into two branches. The Fire Marshal branch consists of the Fire Marshal and a minimum of 4 Deputy Fire Marshals. The Building Inspector branch consists of a minimum of 5 full time Building Inspectors and one part-time Building Inspector. An administrative assistant is assigned to the FMBIO.
The Fire Operations Division is located in the Public Safety Building and is called "Station 22". Operations consists of 22 uniformed employees assigned to four platoons. Each platoon works a 4 day on, 4 day off schedule and is commanded by a Captain (Shift Commander) and supervised by a Lieutenant (Company Officer). The minimum daily staffing is 5 fire personnel.
All Firefighters are State of Connecticut licensed Emergency Medical Technicians who can assist students, visitors, faculty and staff with medical emergencies should they occur. Firefighters are also certified as Hazardous Materials – Technicians and continually train in specialized areas such as radiological emergencies, confined space rescue, rope rescue, cold water rescue and conduct live fire training. Continual support and outreach to the University community is central to the Department's mission and annual fire safety inspections, demonstrations, public speaking, and tours help to establish a safe academic and residential environment.
The University of Connecticut Public Safety Dispatch Center is also located in the Public Safety Building and is staffed around the clock by Public Safety Dispatchers. The Public Safety Dispatch Center ("UC") answers 9-1-1 calls made from the Storrs campus and dispatches the appropriate emergency resources.
UCFD is equipped with two "Class A" engines, a tower ladder, four basic life support ambulances, a Special Hazards vehicle, and numerous support vehicles.  The Department also maintains close mutual aid relationships with Tolland County Mutual Aid Fire Services, the Connecticut Eastern Regional Response Integrated Team, the Town of Mansfield Fire Department, Willimantic Fire Department and other local departments to both send and receive aid.